As a country with a mix of cultures but a small area, so the hotel here is very expensive but very worth the money. St. Regis is one luxury hotels in modern Singapore, majestic. Regis Hotel is nice, strange, international standard.
St. Regis (Region: Orchard – Number of rooms: 299)
Address: 29 Tanglin Rd, Singapore 247911
Phone: +65 6506 6888
Lowest room rates range from: $ 263 / night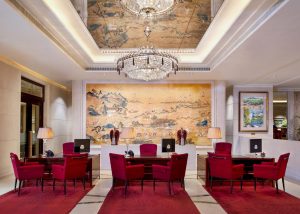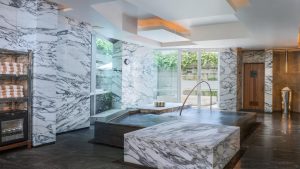 Review of hotel location: The St. Regis Singapore is one of the most beautiful hotels in Singapore, enjoyed by many visitors because of the beautiful location, convenient transportation. Located at the quiet end of Orchard Road, just a 10-minute walk from Botanic Gardens. A 10-minute drive from the National Museum of Singapore, the Singapore Art Museum. Sentosa Island and nightlife at Clarke Quay are both a 15-minute drive away.
Stunning Features and Amenities of St. Regis: Elegant and stylishly furnished, the interior is luxuriously appointed in Singapore's splendidly landscaped area on the beautiful Orchard Road. Guests can enjoy quality butler service, professional relaxation spa treatments, and a range of luxury services.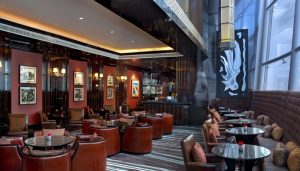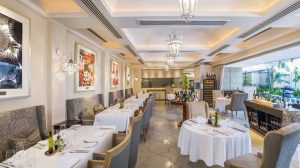 The rooms in the hotel are uniquely designed, surrounded by transparent glass to ensure the light is always in place, visitors can duck out to other exciting areas such as Sentosa Island, Art Museum, Singapore Museum. Inside the hotel are designed in the style of European impression, each room is equipped with flat screen TV, Bose sound system, DVD player, air conditioner … Bathroom with free toiletries , especially French-style marble flooring, with automatic shower, separate bathtub.
Come to Park Regis Singapore – a popular hotel in Singapore for a soak in the pool, pampering with massage therapies, chilled champagne or go to the wet sauna for health. The Super Hotel also features a 24-hour indoor gymnasium and indoor tennis court for motorists.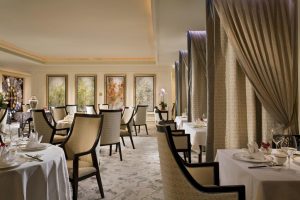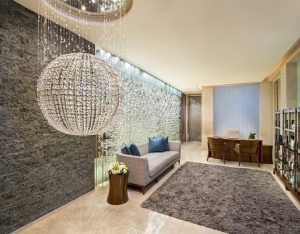 Among the most luxurious hotels in Singapore should not be missed, in addition to the architectural beauty, the convenient modern services, the visitors also enjoy the luxury food is the perfect combination between European and Asian style, can drink any beverage at Yan Ting, Astor Bar, The Drawing Room with dedicated service and friendly. At the hotel, you can walk to the nearby entertainment areas, just 10 minutes from the Botanic Garden, Sensota Island, the Singapore Museum, etc. This is a convenient location for exploring cultural and human landscapes.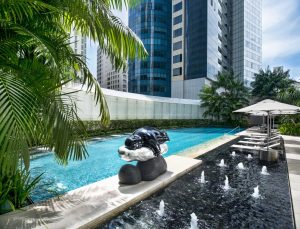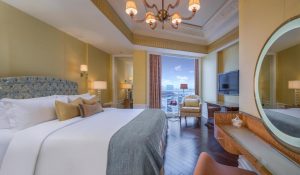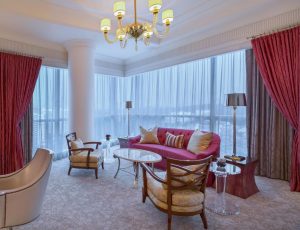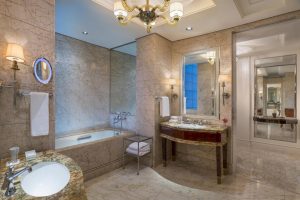 The hotel attracts many visitors every year because of the elegant architecture, the intersection between the classic and modern beauty, interior interior full of feeling comfortable for anyone living in it, also A wide range of professional, friendly service is the reason you should not miss this destination during your vacation.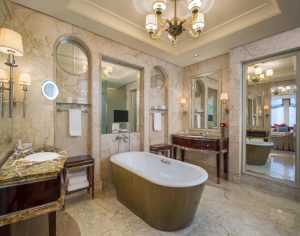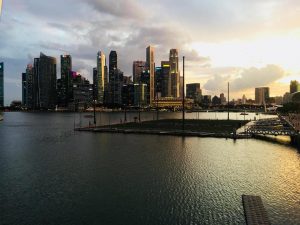 Overall rating of the hotel is great 8.7. Beautiful, clean, close to the center. Reasonable price and convenient transportation. However, Wifi is slow and there is not enough breakfast. You will get great deals at St. Regis
Here is a famous five star hotels in Singapore, high class, majestic, modern royal should know if you want to enjoy the best holiday in Singapore. Wish you have moments of enjoying life exciting, comfortable with family and friends in this beautiful island country.