Marina Bay Sands in Singapore not only "steals" the title of the world's most expensive hotel, but also captivates visitors by its unique design, with huge swimming pool in the middle of the sky, museums like lotus flowers are blooming and super modern casinos.
1. What did you know about the Marina Bay Sands?
The Marina Bay Sands is a $ 5.7 billion, with 55 floors and the "most expensive hotel in the world". The hotel has museum look like lotus, theaters, cinemas, and a super-modern, super-modern casino.To accommodate the most senior guests, the hotel has a 509m2 Presidential Suite, a butler, 3 bedrooms, a large gym, a massage area and a large piano.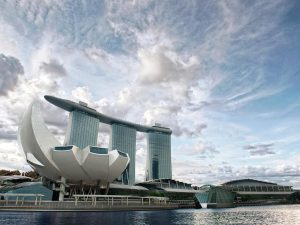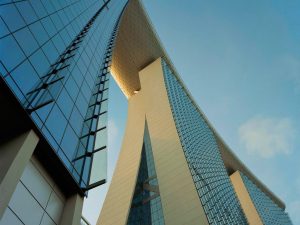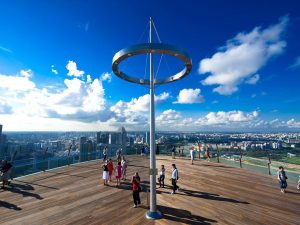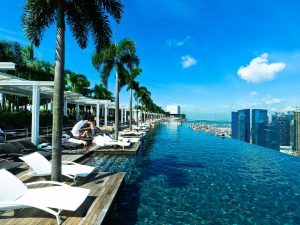 The hotel was designed very nicely, looks like three baseball bats stand between the sky and the top is … a ship.
The top of the tower is "SkyPark" up to one ha, stretching across three towers of the hotel 200m above sea level. SkyPark has an infinity pool, one of the largest outdoor pools in the world, 3 times the length of an Olympic pool.
With a space of 12,400 square meters, SkyPark includes an observatory and restaurants, like The Sky on 57 by chef Justin Quek.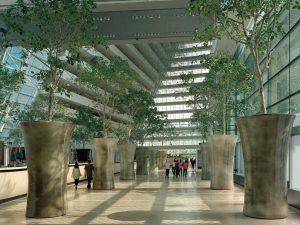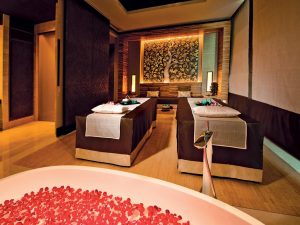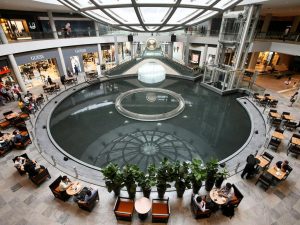 Casino has 4 floors, 15.000m2 wide. Casino includes 600 table games and more than 1,500 slot machines.
The hotel is built by Las Vegas Corporation, with 2,560 rooms which 18 are suites, 230 are suites.
There will be a total of more than 300 stores in this hotel complex, with many famous brands such as Cartier, Chanel, Gucci, Hugo Boss, Louis Vuitton, Tiffany & Co and new firms such as Anne Fontaine and Stefano Ricci.
The conference center has 250 meeting rooms, accommodating over 45,000 delegates and has the largest Banquet Hall in Southeast Asia, accommodating up to 11,000 people. Rooms located on the lower floors of the hotel are priced at US $ 304 per night. President of Las Vegas Sands Corporation, father of Marina Bay Sands company, Sheldon Adelson said the hotel population will promote tourism and set a new standard of design.
The hotel was officially opened on June 23, in a grand ceremony attended by celebrities such as Kelly Rowland and Diana Ross, a group that climbed the hotel's towers and parachuted from on top. Five famous painters were recruited to create works of art for the population, including the statue of Antony Gormley 40m long, made of 16,100 steel bars.
2. Basic information you should know
The hotel offers free WiFi in all rooms. Rooms at Marina Bay Sands are decorated in dark wood in a modern style and feature carpeted floors and flat-screen TVs with cable channels, including CCTV4. All rooms are equipped with an electric kettle with Grand Jasmine tea and slippers. Private bathrooms come with shower facilities and free toiletries. Marina Bay Sands is located at Bayfront MRT Station and is a few steps from the vibrant Central Business District.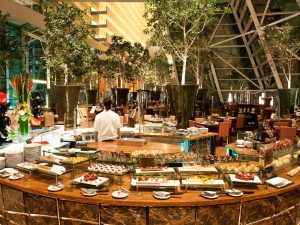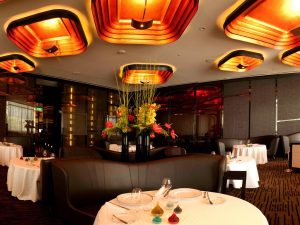 With easy access to a bridge, Marina Bay Sands is 950 meters from Gardens by the Bay and 2.1 km from Marina Barrage. Marina Square and Millenia Walk shopping centers are both 1.4 km from the hotel while Changi Singapore Airport is 20.2 km away.  The 24-hour front desk can assist guests with currency exchange, tour bookings and luggage storage. Guests can enjoy stunning views of the city from the rooftop infinity pool or at the Sands SkyPark Observatory on the 57th floor or enjoy a soothing massage at the world-famous Banyan Tree Spa.Hotel staff can communicate in English and Chinese.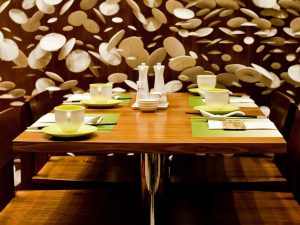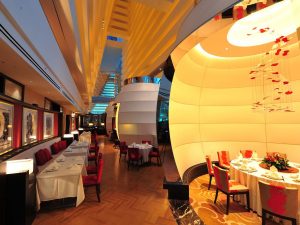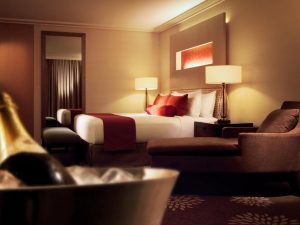 Marina Bay Sands offers upscale dining options by renowned chefs Wolfgang Puck, Gordon Ramsay's Bread Street Kitchen and David Thompson's Long Bird. Guests can enjoy a night out at the club or relax at any of the 3 lounges.This area is great for shopping, there are some famous brands nearby: Cartier, Tiffany & Co, Hermès, Louis Vuitton.
This property is one of the best rated in Singapore! Visitors prefer this place to other places in the area. The couple particularly enjoyed the venue – they scored 9.3 for a two-person holiday.